FOR PEOPLE WHO VALUES REAL AND PRECIOUS MOMENTS.
We believe that,
your wedding is one of
the most important days of your life.
Weddings are unique. At Moment Tracker Photography, we capture every moment authentically; filled with love, emotion and celebration, and always highlighting what makes your wedding special. With every moment captured, the photographers at Moment Tracker will tell your story, making sure to capture the essence of your love, alongside the people who matter to you the most; your family and friends. The MT team will expertly blend into the background to ensure the most organic and natural flow, ensuring to capture every special and memorable moment. The magical feeling from your special day will be encapsulated in a beautiful online wedding album, created by an expert team of professionals who are honest, trustworthy, and dedicated to telling your love story.
From big to small, every event has a story to tell. Everything from weddings, family reunions, and everything in between, Moment Tracker will capture all of the action. Located in Toronto, our photographers and videographers are experts at bringing your photos to life, by capturing organic reactions in real time, and documenting every special moment, and the reactions of your guests. The team at Moment Tracker are leaders in documentary style event photography, ensuring to encapsulate each moment, so you can relive it for years to come.
The team at Moment Tracker are ready to take the lead and let you relax and enjoy your special day. If you are looking for a high quality wedding photographer or videographer with many years of experience and a creative approach, then Moment Tracker is the perfect choice for you. Enjoy the day you have worked so hard to plan, and live in the moment. Enjoy every moment with your love, your family and friends, and let us capture the fine details. Revel in the love and the magic, so you can look back on a collection of beautiful images that you can cherish for years to come.
1.Once you've inquired about your wedding/event, we'll be sending you my pricing guide and everything you need to know in order to book with Moment Tracker. From there, we will set up an in-person meeting or call to discuss further
2. After you've decided to work with Moment Tracker Photography, we will send you a contract to review and sign so we can move forward with the booking. After receiving the signed contract and deposit, we'll lock down your date and we will move forward with planning your engagement session.
3.We will be getting to know each other a little better at your engagement session! The next steps from there would be planning your big day! We will be sending you questionnaires to fill out so I can have a deeper look at how your big day will be and can be prepared for everything.
The speciality of the Moment Tracker Photography Team is we make sure of the comfort of the bride and groom at their wedding day. As far as the comfort zone goes, we make sure that the bride and groom enjoy their big day without feeling pressure to look good as they are being photographed constantly. It is our goal to capture every little detail about the bride and groom. The bride and groom are not the only ones we capture, but we also take photographs of their guests as well. Our services include candid photography, portraiture, and before and after photo shoots. In addition, we focus on capturing the small objects such as rings, pendants, ties, shoes, etc. and other accessories related to the event through styling. Furthermore, we keep up with the latest photography trends keeping it creative and elegant. Our photography team will ensure that the photographs reflect the newlyweds' love story in a creative way. After seeing the finished album, the bride and groom will be able to re-collect and connect with their memories of their wedding event.
We will be with you every step of the way and work closely with you to make sure each part of your day is captured beautifully, we want you to relax and enjoy the day knowing you have us there.
You are working
directly with Rahad.
Why is that so important? Well, unlike all your other vendors, your wedding photographer is the one person that will literally be with you the entire day. So, we think it's extremely important that the person you hire to document one of the biggest moments in your life, is actually the same person whose work you are looking at and the very same person who you shared all those creative ideas with before your wedding.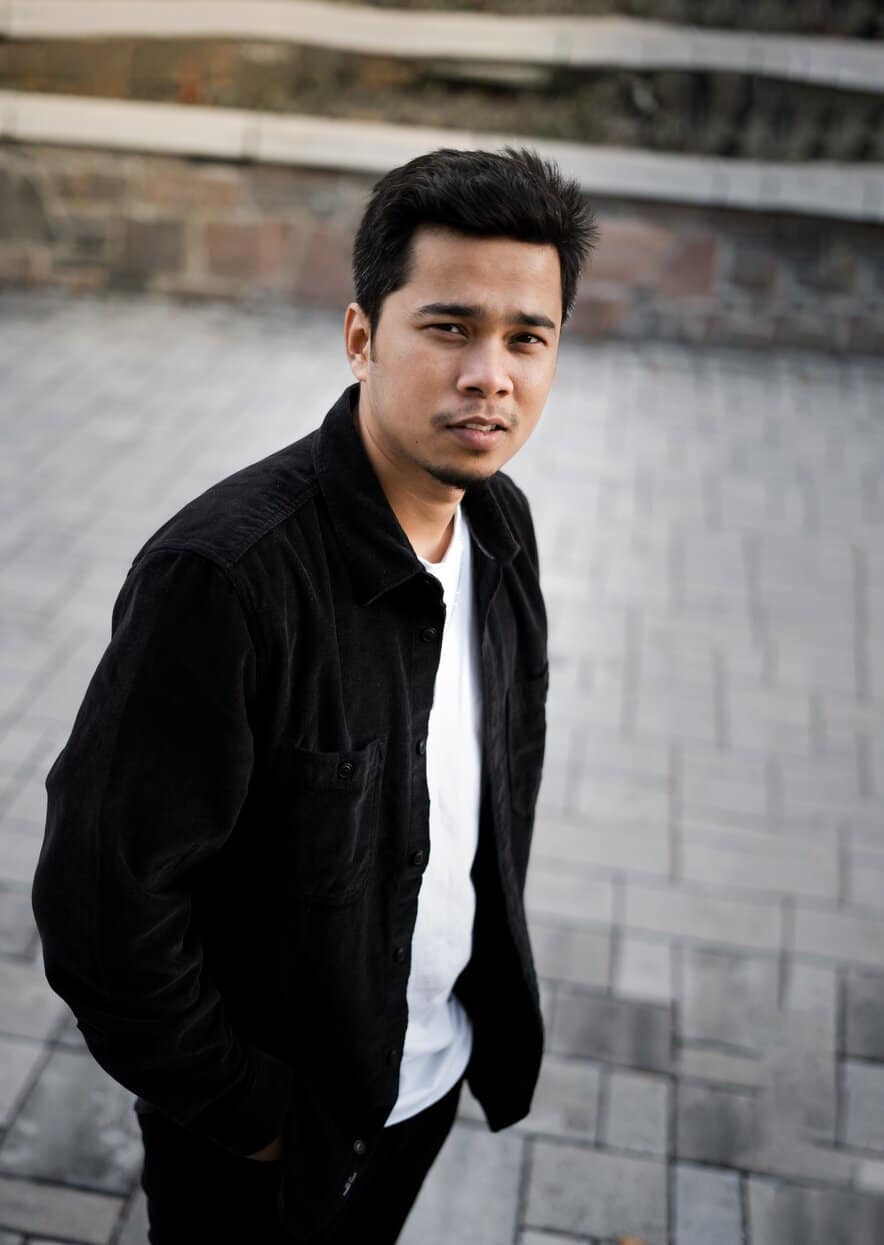 I'm Rahad Uddin, owner of Moment Tracker, Wedding Photographer based in Toronto, Canada. I am photographing for the people who values real and precious moments. You won't have to stress on your big day. With over 8 years of professional photography experience, you are in good hands. To make your big day , one of the greatest memory to cherish forever is the most important goal for me and my Moment Tracker Team.
Learn about our client's experiences
I recently had my wedding and Rahad was the only photographer I booked. He is amazing as a person and beyond amazing as a photographer. He was very friendly, patient and kind to all my guests. Everyone loved his attitude and the photos turned out great. He took every single simple moment and made that moment amazing. My fiancé said,"he is a true moment tracker not a moment creator." He took all those amazing,beautiful photos without bothering any guests and without suggesting poses- Rahad captured all the moments perfectly. Thank you from my full family. And i will 100% recommend him for any occasion.
Rahad bhai thank you so very much for covering our events and our pre reception shoot! Thanks for being so patient with everything, making us feel so comfortable and clicking some amazing shots. It was so hard to choose a favorite from each day as I love them all equally but I managed somehow. Everyone in my family loved the pictures and said they turned out beautiful. I and Tahnan wish you all the very best for the future of the moment tracker and we already know that you're going to become the bestest amongst all here, in fact you already are!
I had the pleasure of Rahad being my photographer for my wedding reception last month. He was very easy to communicate with and was extremely friendly. He delivered all my wedding photos earlier than expected and provided preview shoots within a week as well. Would and will definitely recommend him to my family and friends!
THANK YOU Moment Tracker!!! The photos are absolutely perfect! We couldn't be more thrilled with how wonderful they have turned out. You are truly a magician Rahad. Words cannot describe how grateful we were to be supported by you on our big day. Thank you so much. Cheers to the amazing work.
So I met Rahad a little while before our wedding, and I must say he is not only professional, but kind, efficient and effective. I knew as soon as I met him, he would be perfect for our special day. Someone once told me that there will be hiccups always when a wedding happens, and there was, but through it all I must say he was PERFECT throughout the whole process, and the day!!!! Thank you sir, I hope to use your service again.
Thank you so much Rahad for taking such amazing shots of our wedding! Working with you and Mahira has been such a pleasure! You made this process seamless for us and our family! I truly appreciate you getting us our pictures so soon!
Loved working with Moment tracker from start to finish!! Super easy and to the point and we looked around, and did not have such a straight forward experience. The best part. my husband thought he downloaded all the pictures and turns out he did not, they resent them all to me months later. We asked them to stay later and they accommodated. The day was killer hot and they kept up with us all day.Thank you moment tracker for being so amazing and taking the perfect pics of our special day.
Best photographer!! We had Moment tracker for our wedding in 2020 and to this date, we still receive compliments on our pictures. It was a pleasure working with them! They are professional and cooperative. We received our photos right on time. I highly recommend Moment tracker!
I reached out to rahad to take pictures for my engagement after seeing him take pictures of my cousins mehndi and bridal shower, not only did Rahad deliver, he knocked it out of the park! it was a hot day and cramped with people not to mention my fiance and I are both exceptionally awkward. Rahad captured every moment of our engagement and was very patient and accommodating throughout the whole process. the quality of his pics are amazing and they feel so "us" I will definitely be reaching out to him for my future events. thanks again Rahad!
'Highly recommend Moment Tracker, super easy to work with! He was flexible and extremely accommodating when it was needed. He delivered my photos so quickly and the photos captured such beautiful moments that l'll cherish forever.